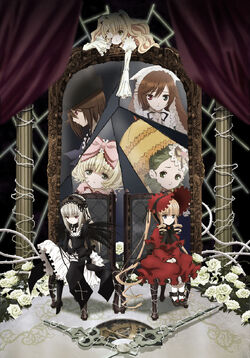 Rozen Maiden Zurückspulen
is the third season of Rozen Maiden, which however does not follow the two previous ones, but instead tells a whole new story path.
Description
Rozen Maiden Zurückspulen was revealed as new series in November 2012, set to premiere in July 2013. The art style, as well as the storyline are closely following the currently ongoing manga. The anime is be directed by Mamoru Hatakeyama at Studio DEEN, with Tomomi Mochizuki serving as the script writer. Shinkichi Mitsume returned as the music composer for the series, as well as Ali Project, once again performing the opening theme. The cast from the previous anime returned to reprise their respective roles.
The story for this is said to be based more off the second manga for Rozen Maiden and does NOT continue with the ending for Träumend.
Plot
Rozen Maiden Zurückspulen takes us back to the start, as we see again the major events of the story, though this time perhaps in a slightly more canonical manner. But it is a highly abbreviated tour of the past and first time viewers will likely be left wondering "what did I just see?" This confusion, however, is going to come to an end with the next episode, as pretty much everything that all of us know, except for those who have been following the manga, well, a manga for the past few years, will soon be of little use as Jun walks through that door. As a "recap" episode it's fine, though it only makes us wait for the main event to begin.
Promotion
Trailer
List of Episodes
References & Citations
Community content is available under
CC-BY-SA
unless otherwise noted.